Usually when I spotlight one of Bing Crosby's contemporaries, it is someone that has a close connection with the legendary crooner. For this spotlight I am profiling forgotten dancer Paul Draper. What ties does he have with Der Bingle you may ask? Well, Draper does not have much of a connection with Bing other than Paul was supposed to star with Bing in the movie musical
Blue Skies
in 1946. That odd pairing was never to be though.
Paul Draper was born on October 25, 1909 to an artistic, socially prominent New York family. Despite the pressure his family put on him to become an engineer, Paul's love for dance persisted and ultimately won out. His passion and unique style led him to international stardom. Draper's training in tap dance was minimal. He was a self-taught tapper, having taken only six tap dancing lessons in his life, and he used his knowledge bank of ballet-based materials to influence his tap style. He learned tap at Tommy Nip's Broadway dance school in 1930. Much to the dismay of his family, Paul set off for London as a teenager hoping to find work as a tap dancer shortly after being introduced to the art form. He scraped together a living performing flashy routines in Europe and the United States, then enrolled in the School of American Ballet and realized the possibilities of combining tap and classical ballet.
In 1932, Draper made his solo debut in London. He introduced his new "Ballet-Tap" dance form and gained much notoriety for his unique style. He danced to a variety of music styles, but often incorporated Classical music into his routines. By 1937, he was performing at such venues as the Persian Room at the Plaza Hotel and the Rainbow Room. Carnegie Hall followed, then Broadway and a film version of William Saroyan's
Time of Your Life
(1948).
His big break in films was supposed to be in 1946's
Blue Skies
at Paramount Studios. He was cast the rival to Bing Crosby. Crosby was one of the biggest movie stars of the 1940s, and he was a fixture at Paramount for almost twenty five years. Bing was such a big star that he had approval of his co-stars. Bing and Draper did not get along. Crosby was laid back to his way of filming, while Paul approached every scene and nuance of the movie as if he was choreographing and intricate ballet. Draper did not endear himself to Crosby either but trying to get actress Joan Caulfield removed from the picture. He was constantly complaining about her lack of singing and dancing ability. During the first week of production Draper's speech impediment and his trenchant criticism of Caulfield's dance ability led Crosby to insist on his replacement by Fred Astaire who, then forty-seven, had already decided that this would be his final film and that he would retire, having spent over forty years performing before the public. Paul Draper would never get his break in Hollywood movies. Draper even had a very close resemblance to Fred Astaire at this time.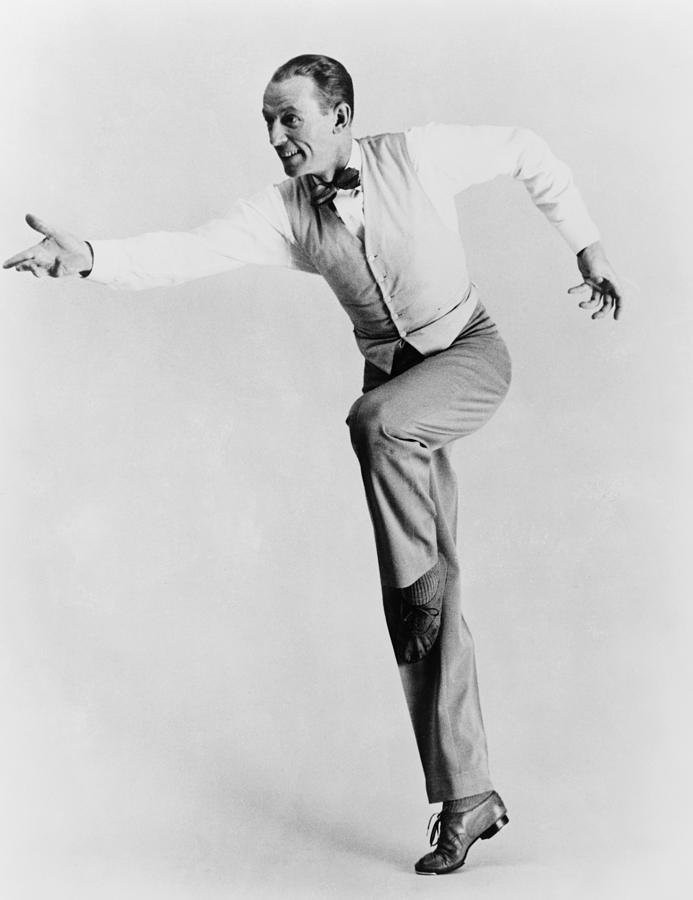 Instead, he teamed up with Larry Adler, a virtuoso harmonicist. The two became a world-famous act, performing together until 1949. They appeared as regulars at New York's City Center. The act finally disbanded when jobs dried up after they were blacklisted as Communist sympathizers. (Adler, in response to these false charges, moved to the United Kingdom). In the 1950s, Draper was accused of affiliating with the Communist party. A routine of his was to appear on CBS's Toast of the Town, but was cut out of the segment due to protests the station received. During this period, Draper was forced to put a stop to his tour because many television programs and hotels felt they could not host such a controversial figure. He filed a libel suit against a Connecticut housewife who claimed he was a Communist, but still received negative press. Draper left the United States following this scandal and lived in Switzerland for three years. In 1955, Draper returned to the stage performing in Stravinsky's Histoire du Soldat at the Phoenix Theater. Jerome Moross's Gentlemen, Be Seated became another piece Draper could add to his resume in the 1960s. Draper also choreographed pieces for George Kleinsinger's Archy and Mehitabel at Goodspeed Opera House, and performed in the Broadway musical Come Summer during the sixties.
Draper took a hiatus from mainstream performances in the late 1960s and began to teach in the theater department at Carnegie Mellon University in Pittsburgh, Pennsylvania until 1978. He was seldom seen in concert dance during this decade, but did manage to make appearances at and create pieces for the American Dance Festival and Lee Theodore's American Dance Machine.
Draper married Heidi Vosseler, a ballerina for George Balanchine's first American ballet company, on June 23, 1941, in Rio de Janeiro. Miss Vosseler lived with him in Europe until they returned to the United States in 1954 (they had three daughters.) She died from lung cancer in 1992. Draper died September 20, 1996 in Woodstock, New York at the age of 86. The cause of death was emphysema. His three daughters, Pamela, Susan, and Kate, and two grandchildren survive him. His family currently resides in New York.
Paul Draper struggled with people believing that tap dancing was not a legitimate art form. Some people put it on the same level as baton twirling or rope-skipping, so he was determined to convince the world that tap dancing is a credible art form. Draper was ashamed of how tap was being taught in conventions and institutions and did not like how it was being performed. He thought that anyone could be taught a tap routine, but not everyone could be taught how to dance. Paul Draper was more invested in the performance and entertaining aspects of tap dancing than the actual technique...