A famous photograph of Bing Crosby and Elko Mayor Dave Dotta appeared in newspapers and magazines world wide in 1948. Dotta is supervising Crosby while the singer/actor sweeps the street in front of the Ranch Inn at Ninth and Idaho streets.
Crosby bought several ranches in the North Fork area and spent summers there to get away from his hectic schedule. His first family, wife Dixie, and four sons Gary, Philip, Lindsay and Dennis shared those times with Bing.
He frequently came to town where he was treated just like one of the locals. In fact, he was so comfortable in Elko he didn't wear his hair piece. He became one of "us," not one of "them." It was a place where he could literally let his hair down and he sincerely appreciated his acceptance by the townspeople.
Crosby, in his book, Call Me Lucky, said he wasn't asked for an autograph, to give to a charity, do a benefit appearance, or to do anything but "mind my own business." Bing fit right in.
He loved the town and the town loved "Der Bingle." As a publicity stunt, but an appropriately serious one, Bing was asked to be Honorary Mayor of Elko and he accepted.
February 7, 1948 was the big day. Ceremonies were held at the Ranch Inn and the Commercial Hotel.
Mayor Dotta read the declaration: "In humble recognition of your outstanding contributions to high standards of American citizenship, sportsmanship, clean living, parenthood, et. al.; and finally your substantial additions to community life in the City and County of Elko, I am privileged and proud to herewith appoint you by official proclamation, Honorary Mayor of Elko, Nevada to serve ad infinitum. We are grateful that you have seen fit to accept this honor."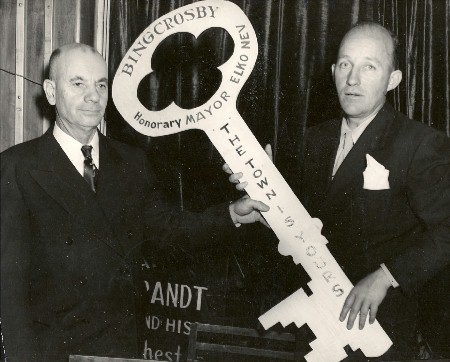 Elko Mayor Dave Dotta presents the Key to the City at the ceremony designating Bing Crosby (without his hair piece) Honorary Mayor of Elko on February 7, 1948. Photo from the Northeastern Nevada Museum Collections.
Dotta told Bing that the townspeople would make sure the singer carried out his duties which included getting the snow plows out, directing traffic, and street cleaning. His training began immediately and that's when the famous photograph was snapped.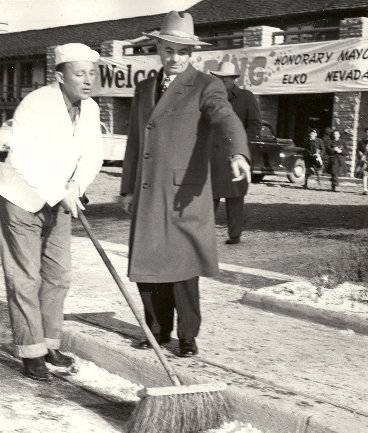 In his acceptance speech, he promised to close down all the saloons - but not until everybody was inside.
Bing Crosby remained Honorary Mayor of Elko until 1977 when he died of a heart attack in Spain following a round of golf. Elkoans sincerely mourned the loss to the town and to the world. Part of his limitless acting and musical legacy was his 1944 Academy Award for Best Actor (Going My Way) and for White Christmas, the song forever associated with him, the 1942 Academy Award for Best Song. But in town, he was just Bing...